We are an independent video game development company located in Montreal Canada, founded in 2014 by Sylvain Savard, Nicolas Brunet-Messier, Alexandre Caron and Guiz de Pessemier. We built a great expertise in making games in collaboration with big influencers like Felix Kjlellberg, a.k.a. PewDiePie and we are currently developing on both mobile and consoles.
Action Games
PewDiePie's -Tadpole Tap
H3 Ball Rider
Youtube
Collaborations with
YouTube stars
Tuber Simulator
Play PewDiePie's
Tuber Simulator
multi-platform
Android, iOS
Amazon, Steam
Latest News
To keep in touch
The terrifying Water Sheep Council is at it again! Prepare your Tuber Mini City with new event items. Assemble PewDiePie's comrades with a new pack and stop this madness!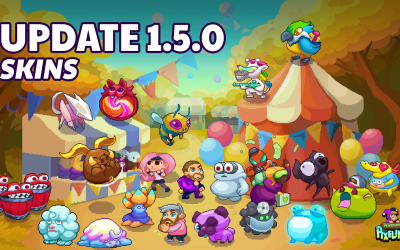 PewDiePie's Pixelings's update 1.5.0 is here! Unlock new customization options for your favorite Pixelings, read the pixel news and earn bonuses by beating salty players!   Pixelings Skins - YAAAAASSS After rolling around in Pixel Dust long enough, Pixelings have...
Get ripped with big PP energy! It's time to take it easy with Pewds this summer in an all new Vacation celebration!